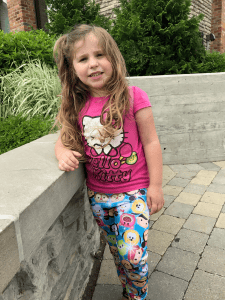 Shelby Reardon
June 22, 2017
Project iAm
3818 Frampton Dr.
Toledo, OH 43614
Dear Project iAm and Buster Browns,
Thank you so much for renewing our scholarship for another year. Our daughter, Shelby, has been attending Promedica's Autism Early Learning Program since she was three years old and received her Autism Diagnosis. This program has been amazing for her! With the help of the Buster Brown scholarship, we were able to send her to the full day program and now she will be able to continue this program for another year.
This past year, we have watched Shelby grow in so many ways. She has learned how to communicate her wants and needs by using pictures and one word requests and labels. She is learning colors, letters, and numbers, as well as identifying people she is familiar with. Seeing Shelby look at a picture of her brother, sister, her dad and myself and call us by our names has been amazing. One of the biggest highlights of this past school year has been that Shelby has become fully potty trained! I had no idea how I was going to teach this task to my child who was almost completely non-verbal, but with the support of the staff at the AELP, we were able to teach her successfully. These are only a few of the many things Shelby has been learning during her time at this program.
If it was not for scholarships and grants like Project iAm and the people in the community that help keep this organization alive, she would not be able to learn and grow in the ways I know she can. Being able to be a part of an organization that truly cares about kids like Shelby who live right here in our community has been life changing.
Thank you again for all you do.
The Reardon Family