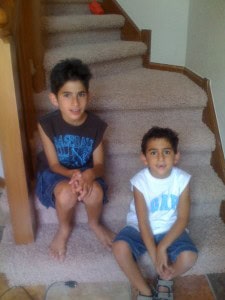 Band Name: Freckled Zombies
Walking on behalf of the Freckled Zombie's
Lead Singer: Mona
Lead guitar: Yazeed
Rythym guitar: Faris
Bass: Zade
Drummer: Nader
Back up singer: Maha
pace: walk
Team goal: $1000.00
These boys consume our life.
They are the reason we wake up.  They are the reason we go to work, make coffee, make breakfast, and workout!
We worry about them every second of each and every single day.  We worry that someone at school wont know that they didn't have enough to eat at lunch.  We worry that the reason they are acting funny is because their head hurts.  We worry that when we are 97 and can hardly move, that we will still be worrying.
What we do:
We hope.  We pray.  We advocate.  We support.  We teach.  We try.  We educate.  We research.  And on September 20th, 2009 – We WALK!
Please help us support a wonderful organization that has supported us, and many other families by starting your own team, or donating to ours.  Any amount would be valued.
Thanks for being a part of our lives!
Mona, Zee, and the Freckled (Faris) Zombies (Zade)
To know them is to LOVE them!
Amount raised so far:  $340